Michael Rasley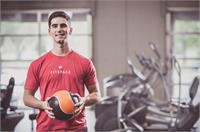 Certified Personal Trainer and Yoga Training Specialist
"The answer is the question." -Alan Watts
Michael Rasley instructs the following:
60 minutes of intense strength training to unleash your inner athlete, female only. Level III of our strength small groups.




A 12 week health journey.




The ultimate plan for weight loss or beginner looking to get into a program. Groups require a 12 week commitment and meets 5 days a week. New groups forming as members permit.