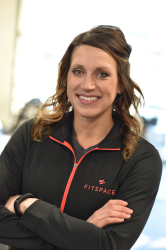 Why should I go to a Registered Dietitian?
Fad diets. Self-help books. Talk shows. You may have tried them all and still be struggling with health problems or weight management. Whether you don't know where to start, aren't getting results, or know how to keep going, an RD can help you reach your goals.
A Registered Dietitian (RD) is a food and nutrition expert. They have in depth knowledge of nutrition and how to figure out your metabolism to come up with a customized plan for you to help you reach your goals.
An RD can give you customized nutrition recommendations for your body. They have special skills and training to develop a nutrition program that specifically meets your needs. Nutrition is not a one-size fits all approach. Everyone needs, a specific plan for his or her body, as your body will be different from what your friends' body needs.
An RD can help you with a health and fitness goal, weight loss, medical condition, or even sports performance goal. RD's can help take the guesswork out of what nutrition plan you should follow.
An RD can help develop a safe approach that is realistic for your life, family, and schedule. It's about building a new lifestyle not about quick fixes that don't last.
RD's stay up to date on the latest trends in food…should I eat fat, are eggs good for me, is low carb the way to go??? Everyday a new suggestion comes out. So what is best for you? See an RD and they can build the best plan for your body and your goals. To ensure you are not trying a plan that is unsafe or unproven.
Nutrition is 80% of any weight loss or performance goal. So why not have an expert guiding you on what is best? You can workout all you want, but until you get your nutrition on track you won't see the results you are looking for.
What is the difference between a RD and a nutritionist?
Registered dietitians must complete at least a 4 year degree at an accredited university, pass an exam after graduation, receive certification and complete continuing education requirements. In contrast, nutritionists, in many states, are not regulated and may not have received official training or any training at all. To be safe make sure that any dietitian or nutritionist that you are considering has up-to-date certification and appropriate training.
What to expect at our first appointment:
In our initial appointment I will get an understanding of "you". What your goals are, any medical conditions, tactics you have tried in the past, and your successes and challenges. We will talk through what you are currently doing for your nutrition. After getting a good understanding of you and your body we will develop a nutrition plan that we both feel comfortable with and is realistic for your lifestyle. A lot of times it's not about revamping everything you do! Small tweaks throughout your day can make all the difference in the world. How often we meet depends on your needs.
How do I set up an appointment?
Alex Shepp is our RD on staff. To set up an appointment go to our website
www.thefitspace.com
, email Alex@thefitspace.com or by calling 952-204-3749.
So instead of reading a magazine article, copying the diet your friend is on, or listening to Dr. Oz's diet of the week. Go to an RD who is the expert!