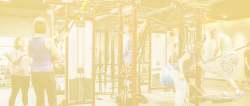 HEALTH & THE HOLIDAYS
MILLIONS OF AMERICAN'S WILL BECOME HEAVIER OVER THE HOLIDAYS
Each year as the holidays come and go, many of us find we have gained a pound, two pounds, or even more. Often we go into the holidays with the mind set; "It's the holidays, I'm going to be extremely busy, I have lots of social events to attend, the kids will be home due to the holiday break, and I am looking forward to Mom's holiday cooking complete with baked goods like bars, cakes, cookies, and pies. Then there is candy, egg nog, special holiday coffee drinks, and alcoholic beverages. We tell ourselves, I just won't have time to focus on my health, let alone get into the gym. It's just six weeks – I will focus on my health and wellness goals in January when I make my New Year's resolution!"
Before we even enter the holiday season we are already sabotaging our health! Research shows that even if we only gain a pound over the holidays, it can be extremely challenging to lose it afterwards. In fact, that unwanted pound tends to accumulate, year after year. According to cardiologist and talk show host, Dr. Mehmet Oz, most Americans who gain weight between Thanksgiving and New Year's Eve generally don't lose that weight ever again. Unfortunately, this gradual accumulation can be a major contributor to metabolic syndrome later in life. Health concerns such as obesity, diabetes, high blood pressure, high cholesterol, and heart disease can thrive in this environment. Before we know it we have followed the above cycle and created a holiday behavior pattern that sets us up for failure.
The good news is you don't have to gain that pound or two! You can have a wonderful holiday season with family and friends, engage is all those social events, and still maintain or even lose weight through the season!
Here are a few tips to help you stay on top of your health and wellness through the holidays:
· Manage your stress through a highly effective schedule and by having a plan (prepare ahead for stressful situations) ex. What do you do when you get stressed out? Some people tend to (comfort) eat. For a person who tends to do that, a plan for stressful situations may be to have healthy flavorful foods on hand so you don't eat empty calories. Think through a solution for stressful situations a head of time and figure out what will work so that you are not put on the spot and find yourself in a no-win situation.
· Exercise! We often feel too busy or too tired during this time of year to get exercise in. But research shows that exercise can relieve stress and increase energy levels! Make the time, you WILL be glad you did.
· Get plenty of sleep! Your full social calendar can wreak havoc on your body! Lack of sleep, resulting in exhaustion can lead to weight gain, you may also have a hard time maintaining restraint around food.
Here is some advice from Bobbi Horner, RD FITSPACE
Join our:
ULTIMATE Holiday Program – An Intensive 8 Week Group Training Program featuring physiological and biometric assessments, Nutrition Coaching & Education with our Registered Dietitian and 36 fitness classes!! We will help you stay on track through the holidays and on January 1st you will even find yourself a little bit healthier then you were when you started!
Program Starts: Monday November 9th & Program Ends: Friday December 31st 2015
(Note: No classes on Thanksgiving, Black Friday & Christmas Day * Only one class option is available on Christmas Eve & New Year's Eve that option is 9:30 a.m.)
Classes are held Mon-Fri and class times available are:
6:00 a.m. – 7:00 a.m., 6:30 a.m. – 7:30 a.m., 7:30 a.m. - 8:30 a.m., 9:30 a.m. – 10:30 a.m., 12 p.m. – 12:45 p.m. (Lunch Express), and 5:30 p.m. – 6:30 p.m.
Still unsure?
Sign up for our complementary DEMO WEEK!
Monday November 2 – Friday November 8, 2015