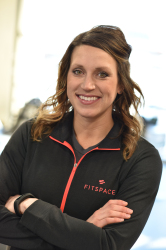 Holidays are the time of year where many of us will overindulge in treats. We may tell ourselves this only happens once a year we need to enjoy it. The problem arises that many of us may have a couple of Thanksgivings at different families homes, a couple of holiday parties, Christmas treats in the office break room and at home. Extra holiday drinks and appetizers at holiday parties. By the time the holidays are over we have put on some unwanted extra pounds. So how can we enjoy the holidays and still watch our waistlines? Here are some basic tips to keep in mind.
1. Do not go to a holiday party hungry! It does not work to save up all of our calories for the party that night. We should have a good meal of quality protein before we go. This will help stabilize our blood sugar so we don't go into the party starving and overindulge. The extra food will leave us with a big blood sugar spike and then crash.
2. Always eat your protein first and load your plate up with veggies. Protein is filling and satisfying and fiber leaves us feeling full longer. Eating your protein first leaves less room for all the carbs that are available at parties.
3. Watch the calories you are drinking. Many of us do not realize the amount of calories that we drink throughout the holiday season. Remember every 5 oz glass of wine has about 130-150 calories per glass. Have half a glass of wine and half glass of soda water mixed. Refreshing drink with half the calories and sugar.
4. Bring your own healthy dish to share. If you are unsure of what will be served at your gathering bring a dish you know is healthy. This will ensure that you have at least one healthy option to fill you up.
5. If you have a favorite treat or dish. Take one serving and leave the rest for everyone else. Sometimes when we completely deprive ourselves of our favorite things it makes us more prone to overindulge in other treats. So have one serving and give the rest to family, friends, and coworkers. Another idea is find a healthier way to make your favorite dish. For example try mashed cauliflower potatoes instead of regular potatoes.
These are just a few tips for the upcoming holiday season. We can still enjoy our holidays without the unwanted weight gain that can come with it! If you have further questions or would like to set up time to meet feel free to email me at bobbi@thefitspace.com
Look for our Holiday Ultimate classes starting November 9th. A great way to keep moving and keep nutrition on track during the holiday season. You will also learn more holiday nutrition tips!
Have a happy and safe holiday season.
Bobbi Horner, Registered Dietitian and Personal Trainer