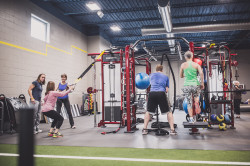 FITSPACE ULTIMATE STARTS JANUARY 11th
Forget the fads. Reach your fitness goals with Ultimate.
Try a week on us. FREE. Demo weeks starts January 4th.
Daily classes at 6 am, 7:30 am, 9:30 am, noon, 4:30pm and 6 pm.
Get ready to immerse yourself in Fitspace's Ultimate program. Eat better.

Train

smarter. Look and feel incredible.
Fitspace nutrition and fitness experts have crafted a 12-week program that will help you lose weight, gain strength and improve your overall health.
How do we know? Results, of course. Our clients have transformed their bodies from the inside out. Daily small group classes, individual coaching, nutrition counseling and medical tests combine to help you reach your goals. Fast.
THE LINEUP
1. Assessments: We'll gather your numbers before, during and after with in-depth metabolic tests and blood work.
2. Education: We'll dedicate time as you work out to discuss health and nutrition topics. Our Registered Dietitian will build a personalized nutrition plan based on your test results. And, we'll help you utilize behavioral techniques to implement that plan.
3. Exercise: We'll guide you through a circuit of safe, progressive workouts that focus on strength, flexibility and heart rate.
WANT A FREE TASTE TEST?
Try Ultimate Demo Week, Jan. 4 through Jan. 8, for free. Hour long classes will be held at 6 am, 7:30 am, 9:30 am, noon, 4:30pm and 6 pm, Monday through Friday. Sign up for the no obligation demo classes here: http://thefitspace.com/apps/mindbody/classes/35.
ALREADY AN ULTIMATE VETERAN?
Renew in the new year. We'll help you keep the momentum going.
Check out our website, thefitspace.com, for more details. Email us at info@thefitspace.com or call us at 952-204-3749.
Cheers to the new year, new you!
The FITSPACE Team