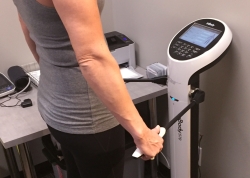 InBody delivers more accurate, deeper results
Don't like what the bathroom scale says?
Maybe it's wrong. After all, three tries often result in three different answers.
"I hate bathroom scales," said Stephanie Winters, FITSPACE co-owner. "I will fluctuate eight pounds over the course of a day."
How about your BMI, that complicated, antiquated Belgian mathematical formula your doctor uses? That might be useless too if you're muscular.
There is a better way to determine what your body is made up of, and whether you carry the right amount of muscle, water and fat.
Enter the InBody. The supersized scale with handlebars analyzes a person's body composition through something called the BIA method, or bioelectrical impedance analysis. Fitspace recently acquired the high tech scale to give clients a more in-depth and accurate picture of their health than any drug store scale could possibly attempt.
The InBody paints a person's health picture in five ways:
1. Body composition analysis: This includes how much water a person has within the body's cells and outside the cells. It can reveal hydration, inflammation, and water retention related to trauma, injury, toxicity or malnutrition.
2. Muscle-fat analysis: This shows the amount of skeletal muscle, the kind most easily affected through exercise. It also reveals the body fat mass, or the sum of subcutaneous fat, visceral fat and fat surrounding the muscles.
3. Obesity analysis: This gives the body mass index using height and weight and the percent body fat based on your muscle-to-fat ratio.
4. Water analysis: This measures the ratio of
extra-cellular
water, or the water outside of the cells, to your total body water. If it's too low, the person is likely dehydrated. If it's too high, the person might have inflammation.
5. Segmental lean analysis: This evaluates a person's arms, legs and trunk (or torso) by weight and muscle mass. The key is whether the person is balanced. Imbalances can lead to muscle tightness and headaches.

Fitspace co-owner, Stephanie Winters
Winters dutifully stepped on the InBody scale and gripped its handles three times over the course of a month.
Not surprisingly for the owner of a gym, she did well.
Here are her results: At 5'6", she weighs 152.3 lbs. with 20.4 percent body fat, 4 lbs. less than she did a month ago. She maintained the same body fat percentage from
December,
but lost 1.8 lbs. in skeletal muscle mass. She appears to be well
hydrated,
and has low visceral fat.
Her right arm and leg are bigger than her left, typical for a former college tennis player.
She burns 1,557 calories a day at rest. Overall, physically healthy and strong.
Along with many of her clients, Winters is participating in Fitspace's Ultimate program. Over the next 11 weeks, she will continue to weigh in on the InBody scale and we will update her results on the blog.