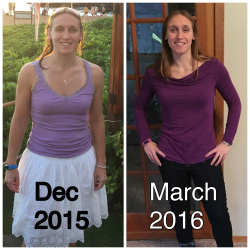 Ultimate success story of FITSPACE Co-Owner, Steph
When you make your way to FITSPACE next time you might be seeing a little less of FITSPACE Co-Owner, Steph.
Most recently, Steph has been participating in the Ultimate program at noon. Steph joined the program to lean up, eat better and get consistent with her workouts again. In the 12 week program, the already lean personal trainer was able to accomplish just that.
Steph recently completed her final measurements for the program and saw positive results all over.
Some Improvements:
Body Fat: Decreased 3.4%
Muscle Mass: Increased 3.3lbs
Fat Mass: Decreased 7.4lbs
Inches Lost: 10
Recovery Heart Rate: Dropped 10 beats per minute
FITSPACE dietitian, Alex Shepp, saw many improvements in her diet as Steph would journal every day. With Steph journaling everyday Alex was able to give her great tips for success with her food. Working at FITSPACE made it easy to attend class every day, but even on days off Steph would make it in for class and listen to her personal trainer DJ.
Steph's tips for success:
Listen to the registered dietitians, it might be hard at first, but they know what they are doing.
Trust the process.
Attend class every day you can. Seeing the group and the other personal trainers motivates you to stay on track.
Ask questions. You will learn a ton of info. If something doesn't seem to make sense, ask.
Take notes on the grocery store tour. It will be a lot of info to learn.
Steph's results below show her InBody results throughout the course of the program.