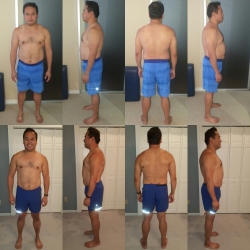 A well-known face around our Fitspace community is current Ultimate participant Eric. He truly is an inspiration to our community and we are glad he has made Fitspace a part of his journey. In September, Eric will be starting his third Ultimate program. Over the last 24 weeks he has seen substantial changes in the way he looks, eats, moves and feels. Eric has pushed through many ups and downs during his time in the program, but never gave up.
Eric always thought he would be overweight and was not a "fitness person". After just 24 weeks of the Fitspace Ultimate program his life has completely changed. Eric joined the Ultimate program to work on strength, balance, and nutrition. After many failed attempts in the past years he felt hopeless. He was addicted to food, in particular sugar and things needed to change.
He picked Fitspace for the community feel, nutrition implementation during the program and the chance to make some positive changes on his health journey. Eric suffered a stroke years ago, developed hypertension then was diagnosed with diabetes. During just these last 24 weeks all of his medication dosages have been lowered and there is hope to eventually get off the medications.
Eric truly feels that the team at Fitspace cares about each person. It was difficult to commit to a program that met 5 days a week for 12 weeks and he has had his challenges along the way, but the Fitspace team stayed positive with him. He finally felt empowered enough to take ownership of his decisions and become in control of his choices.
This is why Eric feels he is succeeding:
He pushed past where he thought he could go.
He followed the dietitian's nutrition advice and really embraced the grocery store tours.
Meeting new people and having comrade became motivating.
This is why Fitspace feels he is succeeding:
Eric pushed through fears and challenges to embrace changes.
He put his trust in Fitspace to guide him on his journey.
Eric set nutrition goals and was determined to make them happen.
He was very consistent with workouts and has ventured outside of Fitspace to find even more activities he enjoys.
Eric's tips for newbies:

It is not about the number on the scale, look at your measurements and other testing.
Be positive about struggles and trust in the journey.
Use this as an investment in yourself.
Commit to it, work with it, and know it will be hard.
The Ultimate program at Fitspace is the best thing that has ever happened to him. Eric now has the confidence he needs to continue to live a happy and healthy life.
Here are some photos that document Eric's amazing results.