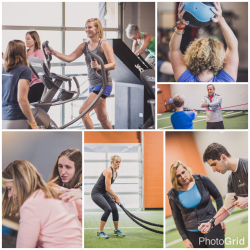 Morning Group of Ladies: An Ultimate Success
Just 11 weeks ago the Fitspace Ultimate program restarted. We were fortunate to have many new and returning participants. Even though everyone in Ultimate is participating for success, it seems all groups have a different level of commitment to the program.
We knew from the beginning our 9:30am group would be special. They were all new to the program and referred from other participants in the program. This group came in expecting results and were willing to make changes. Now as their first Ultimate program comes to an end they are seeing the successes from their hard work and excited for what challenges await them next.
This group has lost weight, gained muscle, increased their metabolism and are overall feeling much better. The program seemed very daunting at first but they have grown to love working out 5 days a week and are becoming more efficient at preparing food. These ladies really enjoyed learning about their bodies through all the assessments the program includes. They feel that knowing exactly where your metabolism is and how to fuel your body properly has huge rewards when it comes to weight loss.
These ladies have jobs, kids, and a lot of other life commitments. Finding the time to commit to the program, attend the workouts and implement their nutrition strategies were the keys to their success. They were not used to working out in groups prior to the program but now cannot imagine it any other way.

This is why the group felt they succeed:
Learning about their bodies metabolisms from the assessments.
Implementing the weekly recipes with their whole family.
Planning ahead with meal preparation.
Making as many of the workouts as possible.
This is why Fitspace felt they succeed:
They came in with open minds and trusted the program.
The group was open to feedback and asked great questions.
They worked hard during all their workouts when they were at Fitspace.
They stayed committed to making changes, even through the holidays.
The group has tips for newbies:
They would highly recommend the program to anyone looking to make some health changes.
Trust the program, Fitspace only wants to see you succeed.
Enjoy the workouts, boxing days can be really tough but fun.
Implement the recipes and plan ahead when preparing your meals.
We have enjoyed being a part of their health journey and look forward to watching their continued success.