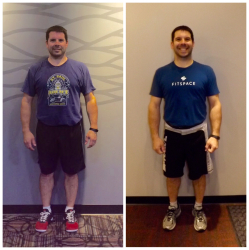 Fitspace Fred has set the bar high for our Ultimate participants. His high energy and humor have been a huge motivation in our last few Ultimate groups.
Fitspace owners met Fred when designing Fitspace. Fred's company Protech Enterprises did the amazing build out that is now Fitspace. While Fred was here working he realized that he needed Fitspace for himself. Fred joined the Ultimate program in November 2015 and continued to March 2016.
When talking with Fred he told us that he joined the program to be in a great atmosphere, get healthy and be ready for water ski season. Fred is a seasoned River Rat and will be competing all summer.
When talking with Fitspace Registered Dietitian, Bobbi Horner, she contributes Fred's success to his willingness to work hard and implement what he learned. His biggest changes came with how he was fueling his body throughout the day. Fred also tracked his food and very rarely missed a workout. He trusted our process and saw great success.
Fred's Success:
Body Weight: 198lbs to 179lbs
Body Fat: 26.1% to 16%
Total Cholesterol: 198 to 159
LDL: 121 to 79
Fat Burn on resting metabolic rate: 66.6% to 91.6%, which means he is burning 25% more fat throughout the day, even while resting.
Fred's advice to new Ultimate participants is to trust the process and do what you are told. Don't be afraid to be pushed out of your comfort zone. In Fred's words, "We did not come here to stay the same."