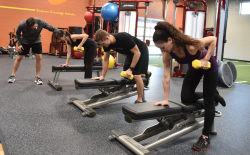 The Ultimate Program was developed by Fitspace in early 2015 to fill a large gap they saw with clients and the fitness industry. This program was designed to get clients results, teach them how to live healthy, and feel stronger during their daily life.
The 12 week long $2,000 ($22 per day) Ultimate Program includes:
60 small group workouts
Meets Monday-Friday


Monday – Strength Training
Tuesday – Boxing
Wednesday – Strength Training
Thursday – Pilates and Nutrition
Friday – Ropes workout

Classes offered at 6am, 7:30am, 9:30am, 6:30pm

Participants are encouraged to have a specific time to attend the group but
are able to fluctuate times based on their life schedule.

Wellness consult with behavior specialist.
Proper goal setting and assessment of readiness for such an extensive program.
Beginning and end resting metabolic rate test to measure current metabolism, identify needs for additional bloodwork and assist with nutrition plan.
Beginning and end exercise metabolic rate and Vo2 testing. This will give the participant individual heart rate zones for their cardio programming to maximize fat loss and reduce injury.
Beginning and end InBody assessment that includes: body composition, water, muscle and fat analysis.
Beginning and end CardioChek lipid profile. Assessing total cholesterol, HDL, LDL, triglycerides and glucose.
Vivofit activity tracker that monitors: steps, sleep, calories and heart rate zones.
Weekly weigh ins.
Beginning and end circumference measurements.
3 individual meetings with a registered dietitian.
Weekly feedback via email and in class on nutrition journal.
Grocery Store tours
Water bottle
Ultimate t-shirt
Wrist wraps for boxing days.
Behavior change journal
Weekly nutrition topic with tasty treat to encourage participants to try new foods.
Follow up programs after completion of the 12 weeks or Ultimate returner discount for completing another 12 weeks.
This program has proven results and re-starts every 12 weeks.
Our next demo week starts October 3rd.
Our next 12 week program is starting October 10th, 2016.