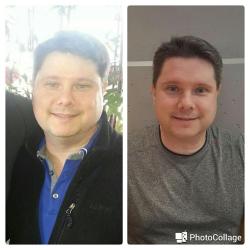 Bryan moved to Minneapolis in 2011. When he moved to Minneapolis he was very fit and active. Then five years went by and he became very sedentary, drove everywhere, worked crazy hours and gained 40lbs. Bryan was always working with a personal trainer and trying a different diet, but nothing worked. When Bryan joined the Ultimate Program in April he had no expectations and was not that excited to start.
Then as time went on he started to see success. Without even trying he lost 6lbs, then another 6lbs and eventually picked up on the fact that the program was working. Bryan is now down 20lbs, has substantially lowered his cholesterol, and is very efficient at burning fat.
Bryan felt the program was a big shock to his system at first. Working out 5 times a week was tough. Then it became routine and he even felt like he wanted more. Bryan enjoyed that everyday of Ultimate was different so he never got bored. Bryan knew he had a horrendous diet prior to the program and has really learned how to enjoy food while staying healthy.
This is why Bryan feels he is succeeding:
Fitspace was accommodating to his crazy work and life schedule. Offering classes at different times of the day helped him never have an excuse to not work out. The nutrition plan was also made for his success. Bryan admits to changing his attitude and is enjoying his new positive self!
This is why Fitspace feels he is succeeding:
Bryan came in with an open mind, once he saw success his motivation continued to grow. Previously nutrition was not a priority in his life, after following suggestions he started to realize how much better he felt. Bryan was very consistent with workouts and is now using food as fuel for his body.
Bryan's tips for newbies:
Treat nutrition as one meal at a time; make your best decision for that meal. Don't feel bad about your decisions.
Surrender your past, listen to what they are recommending and stop making excuses.
Take suggestions to heart and don't be defensive.
You have to be ready to meet the challenge, it took you a long time to get off track, and it will take you time to get back on track.
The number on the scale is not the only way to measure success.
DO THE GROCERY STORE TOUR AND LISTEN.
Bryan feels that when you make good choices, you see the results then you keep making good changes. He loves the community feel and is excited about the new friendships he has made. His new normal includes confidence, consistency and he now feels empowered to live a healthy life.
Here are some photos that document Bryan's amazing results.