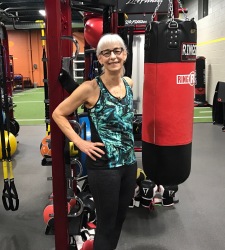 Ann: An Ultimate Success
Nothing is more motivating than watching success. Ann joined our Ultimate Program last year after watching the success, community and happiness of other participants. Ann's fitness journey began many years ago playing tennis. She was also working with personal trainers and physical therapists, then found her way to Fitspace co-owner Brent Albrecht. In her years of working one on one with Brent she became much stronger and was able to work through injuries.
Ann however found herself gaining weight with a new job and recovering from surgery. She decided to join our 8-week holiday ultimate program in 2015 after watching the transformation of other participants. Ann was hesitant with her injury history to enter the program at first, but felt safe knowing there were modifications. She found boxing to be the most challenging part of the program, and then met with Travis who related it to helping with her tennis game and Ann found a new appreciation for it.
In Ultimate and now Pro, Ann enjoys the community. She was never one to workout in a group, but now really enjoys it. She likes to set goals and then have continued encouragement around them to help create an attainable plan to get there.
Ann saw success. She lost weight, gained muscle and feels great. She has learned how to eat healthy even with life, work and eating seafood but not other meats. In the past Ann tried diets low in fat but was left with cravings. Now Ann builds her meals around protein, generally takes her lunch to work and no longer has cravings.
Successes:
Losing 25lbs
Completing many Ultimate and Pro programs without injury and continuing to play tennis.
Feeling empowered to workout on her own Saturdays and Sundays
This is why Ann feels she succeed:
She attended class as often as she could.
Travel workouts made it easy to keep successes going when she has had to travel.
She made small goals and was able to have a nutrition plan created for her with her input.
This is why Fitspace feels she succeed:

Ann came to the program ready to build more consistency around her workouts and nutrition.
Her confidence continued to improve throughout workouts and she would even push herself harder.
Ann was great with logging her food and implementing the feedback she was given.
Ann' s tips for newbies:
Journal your food; if you journal then you can use the little tips the dietitians give you to work toward continued success.
Don't beat yourself up when you can't make a day.
Stick to it and do the program.
It truly has been a pleasure to be a part of Ann's journey. We love her energy in the early mornings and look forward to watching her continued success.