An Ultimate Success: Laurie
Laurie's journey to Fitspace started with a recommendation from a client of hers,
Ann, another Ultimate Success
. Now that she is in her second round of the Ultimate program she could not be any happier. When Laurie first came to Fitspace we had to start by referring her to
Chris Meyer from Kinetic Physical therapy
. After working with Chris and then Fitspace co-owner
Brent Albrecht
she was ready to begin the program last October.
At first it was scary to be known and watched. Being a previous member of big health clubs she enjoyed being just a number. Now she would be held accountable and would have a set workout to complete five days a week. Laurie first learned through her metabolic testing that her metabolism was below normal and that she had been working out too hard to see success. After following recommendations she was able to start noticing changes, and a lot of them.
Laurie works hard to arrive at Fitspace before class each morning to complete her physical therapy exercises and get ready for class. She will admit that coming everyday was hard at first, but then after noticing phenomenal results she knew the hard work was paying off.
Laurie came to Ultimate in hopes of creating a regular and disciplined plan, which she now excels at. She was looking for results in 6 months, which included biking endurance, strength, and flexibility. Having dealt with a tight left shoulder and knees that could become pretty painful at times she had reservations about fully participating pain free. As Laurie followed the use of modifications, embraced the program design and nutritional changes in her day-to-day habits, she not only accomplished her goals, she healed her body. Laurie has realized every goal she wanted. She is stronger and is able to participate pain free and has begun to see that the sky is the limit!
Successes:

Laurie insists she has had over 20 successes
Consistently losing 1lb per week to equal more than 20lbs
Losing over 8% body fat
Losing over 7 inches from her waist alone
Completing walking lunges after her doctor told her she would not be able to
Following through with a workout plan 5 days a week
Travelling and keeping up with her husband on bike rides
Increased her resting metabolism by over 50% and her overall metabolism by 100%
Triglycerides lowered by over 100 points
This is why Laurie felt she succeed:


Laurie loved learning the "why" behind what she was implementing. Knowing why she should breathe, eat, and exercise a certain way helped reinforce her patterns.
Laurie remained active outside of class biking and skiing.
This is why Fitspace feels she succeed:


Laurie had success because she worked hard at it! She came in ready to workout everyday and was willing to put effort into a new way of nutrition. She grew to trust us and took our advice and implemented it into her daily lifestyle. She still journals her food everyday. She has truly built a new lifestyle. She feels strong, has more energy than ever and is pushing herself to new goals. In the short it was hard work, trust and implementation.
Laurie's tips for newbies:

Do the metabolic testing right away
Know for the first 3-4 weeks you will need to lower your outside of class activities (it takes some time to adjust to working out 5x a week)
Embrace the program and allow the changes to happen
Build time in your schedule to learn the nutrition advice
Recently, Laurie took an international trip. While she was sitting in the Santiago, Chile Airport waiting for her next flight she sent us a photo of her Fitspace approved snack. Even while she is thousands of miles away she is still able to get in her vitamins, fats, protein, veggies and water!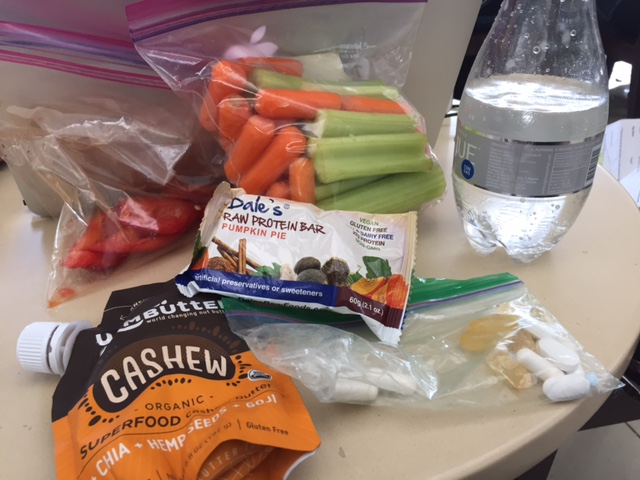 Laurie believes the Ultimate program is phenomenal. She enjoys how tailored it is to each person and really enjoys knowing the "why" behind her success. We are so proud of Laurie's success and excited to watch her continue to train for the long term.