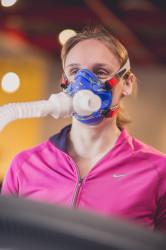 Fitspace offers an array of testing to help educate you on how to properly fuel and move your body. There is a pre-test protocol for each assessment to follow for most accurate results. Metabolic testing takes the guesswork out of our recommendations. We do offer packages with some or all of the tests depending on your needs. Here is what we offer and what they entail.


InBody Assessment - The InBody 570 test only takes 15 minutes and can give you valuable information around your body composition, lean mass, hydration and visceral fat levels. A single test cost is $25.
Finger Stick Bloodwork - Our CardioChek analyzer measures total chlosterol, HDL, LDL, triglyceride and blood sugar levels. The 15 minute test can give you great details into your basic blood levels. The cost is $50.
Resting Metabolic Rate Test - Korr is the software we use to use to test your resting metabolism. We look at your metabolic rate and ratio of fat/sugar burn. Our registered dietitian then uses the information to help you hit goals based on your exact numbers. The $100 test also includes an InBody Assessment.
Exercise Metabolic Rate Test - Our Korr software also can test your exercise metabolism. The test will show us your best workout zones and then you will have access to the Korr app to track and program cardiovascular workouts. This test is $100.

Metabolic Packages:
Metabolic Testing Package - $212.50 and includes an InBody, Finger Stick, Resting and Exercise test.
Basic Nutrition Package - $310.25 and includes an InBody, Resting assessment, nutrition guide and 4 thirty minute sessions with our registered dietitian.
Prime Nutrition Package - $560 and includes three InBody assessments, Finger Stick, Resting assessment, nutrition guide, grocery store tour and 6 thirty minute nutrition sessions.

The Fitspace Registered Dietitian is able to better understand how efficient a client's metabolism works when we complete a resting metabolic test. This guides us in determining the breakdown of macronutrients a client needs. On another note, the exercise metabolic test will not only measure VO2 max and anaerobic threshold as listed above/below, but it will also provide insight into current nutrition patterns for that client. Finally, we like to use the InBody testing to measure muscle changes, fat changes and water weight shifts that can indicate inflammation. As we put all of these pieces together, we can enhance the nutrition plan which will bring greater results.