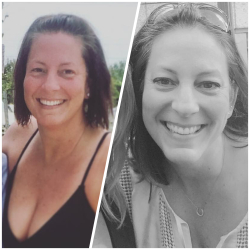 An Ultimate Success: Alison

This success is special to all at Fitspace. Alison has been working with co-owner, Stephanie for almost 10 years. They started working out together after Alison had her hip replaced in May 2007. Time went on and Alison then tore her ACL, skiing. Between pain, weight gain and excuses, Alison knew it was time for a change in her life. She needed to get into something to work on her health and fitness that was not intimidating and could accommodate her recently repaired ACL.

Alison completed her first round of Ultimate, lost weight, became stronger and started managing her hip and knee pain. She has continued to finish her third round this week and excited to start her fourth round in October. Alison continues with the program because it never gets boring, she likes the fact that we change up the exercises, instructors and gets to meet new participants each round.

The different trainers challenge her in new ways since each day of the week has a different focus. Meeting new, like-minded people has been a great motivation. Working out is no longer about just her, the fellow participants help challenge her to work harder and not make excuses. She believes that everyone at Fitspace, from the trainers, clients and other participants are encouraging and helpful.

It has been amazing for Alison to know that Fitspace is here for her, as an anchor. So many things in life can get in our way from being active or slipping up on our nutrition. Alison can rely on Fitspace to remain constant and be her therapy to get her back on track. Being able to have a place that looks at her workouts, nutrition, physical therapy and more, holistically, is why she feels she has made so many changes and stuck with them.


Successes:

It is easy to say weight loss, inches lost, healthy sleep and improved blood work, have been great results. Bigger than that, she has been able to fit into clothes she had not been able to wear in years. The self-confidence boost, and recognition from others has positively affected every aspect of her life. Alison also saw a complete shift in her metabolism. She went from being a sugar burner at rest to an amazing fat burner. Now that she is fat burning, cravings go away and she is able to eat more foods throughout the day.


This is why Alison felt she succeed:

It all comes down to commitment and making the time for it, and you. You have to just stop fighting it and give in to the program, and then the results will come. That means better shopping trips and food prep days. Changing your habits and making new ones, even if you start small. It does become easy as it becomes your lifestyle; everything we learned becomes part of your new routine. There will be days where it all goes sideways but that means you get back after it the next day. It's not about denying yourself pizza, burgers, fries and a drink at happy hour; it's about making those choices better. Then not letting it turn into a day or week or month of indulgence.


This is why Fitspace feels she succeed:

Alison has been an amazing addition to the Ultimate program. She has asked questions when needed, tried new foods and stuck with our recommendations. Her attendance is near perfect, even if she has been busy with work, but that shows how great her commitment it. She has kept a positive attitude through challenges and sought out additional help when needed. She was honest and provided feedback to us as well. If there was something that was unrealistic or challenging for her with her lifestyle, she told us! And then we were able to modify. This communication allows us to make consistent behavior change.


Alison's tips for newbies:

It's hard work and a commitment but if you follow through you will absolutely see results! You're going to have stumbles, backslides and plateaus. Fitspace and Ultimate are an incredible support system and family that will be there for you. Take advantage of the flexibility in being able to make it fit into your schedule. Maybe 6am doesn't work every day so those other days hit the 4:30pm.


Scheduled workouts, education, adapting exercises on ability, and the group environment have been a life changer for Alison. We are proud of how far she has come this year and excited to see her continued results.