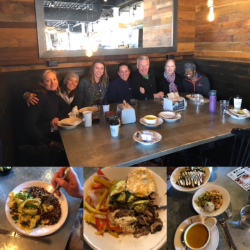 There have been so many great Ultimate successes already in 2018 that it is hard to focus on just one participant. In the last two sessions, Ultimate participants as a group have lost over 75 lbs. of just fat. With that amazing loss in fat, they have also gained muscle, increased flexibility, and are living healthy lifestyles.
When we asked our current group of Ultimate participants what they like about the program, here is what they said:
The FITSPACE Community
Trainer-led workouts with a different focus each day
Registered Dietitian feedback
Assessments to provide feedback on progress during the different weeks of the program
"Tasty Thursdays" to try different foods and recipes
Our next Ultimate program will begin on 4/9/2018 and finish the last week of June with workouts offered at 6am, 9:30am and 5:30pm. This is perfect timing to be ready for the 4th of July. We will offer a free week of Ultimate experience classes 7/2-7/6, and our summer Ultimate program will begin on 7/9/2018.
CLICK HERE TO EMAIL US YOUR QUESTIONS

CLICK HERE FOR MORE DETAILS ABOUT THE ULTIMATE PROGRAM
CLICK HERE TO EXPERIENCE A FREE WORKOUT