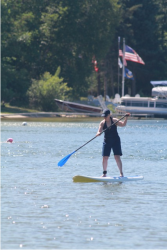 Susan: An Ultimate Success


Susan signed up for the Ultimate program when she saw how strong and fit her daughter was after completing the program.
Susan shared that the trainers are "first rate", positive and encouraging. "They carefully monitored us for proper form and weights to ensure safety. They don't waste time and keep us on track."
Susan feels that the workouts are challenging and the routines change often and are never boring. She especially likes the boxing component of the program. She also enjoys the small group aspect of the program. "Working out in a small group is fun. We encourage each other."
Susan looks forward to showing up for her workout at FITSPACE every day. She is now beginning her fourth Ultimate program and feels strong, fit and healthy.
Successes: Susan noticed positive results from her Ultimate workouts this summer while on a trip with her extended family. She kayaked every day and even beat her daughter and 22-year-old granddaughter in a kayak race. Best of all, she was able to paddle board for the first time. Her core strength had improved to make it easy for her to maintain her balance. "I paddle boarded several times a day, it was so much fun!"
This is why Susan felt she succeeded: Susan felt her success was due in large part to the encouragement of the trainers and other resources available at FITSPACE. "They believed in me… and helped me with some issues that held me back." Susan gives a lot of credit to her success to the nutrition portion of the Ultimate program. "Having weekly nutrition sessions, periodically evaluating our progress, making plans to advance our goals, and being positive about them produces results."
Susan's tips for newbies: "You can do it, and you can have a lot of fun at FITSPACE at the same time."