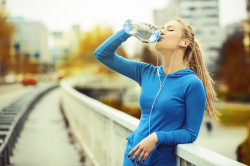 Summer is a favorite season for many. Longer days, less time spent bundling up before heading outside and more predictable road conditions are just a few of the reasons why. For most people, it is also easier to keep active because the fireplace or cookies in the oven don't beckon us to stay inside. With that said, it is very easy to overlook one important aspect of our health during summer: hydration.
Although pretty basic in essence, water is essential to function at our best. Our bodies are made up of almost 60% water, which we use to regulate blood pressure and body temperature, lubricate our joints, assist with detoxification and digest our food. As the summer temperatures have increased, our bodies work to keep us cool through sweating and evaporating heat, thus requiring an even greater increase in the amount of fluids we take in.
So now the questions remain, how do we get enough water in without feeling completely bogged down by fluids or running to the bathroom every chance we can get?
Well first, it is important to be aware of how much you actually need and then, over time, work to consume that amount. A great goal is to consume at least ½ of your body weight in ounces of water daily plus an additional 16 ounces for each hour of exercise. For example, a 150 -pound woman would need 75 ounces of water. With exercise added in, she would likely need at least 90.
It is also helpful to have a reusable water bottle, and one that is BPA free. This Klean Kanteen stainless steel water bottle is not only pretty, it fits that bill.
Next, come up with a schedule. You won't be able to, nor should you, drink all the water you need in a day at once. For that matter, aim to drink at least eight ounces immediately upon waking and then make smaller goals to reach throughout the day. For example, drink 30 ounces by noon, 50 ounces by 4pm, etc.
Now, I know water can get a bit boring, and I often hear clients report that they get tired of drinking just plain H20. In that case, infuse your water with a little bit of natural flavor. Lime, lemon, and even frozen berries will add a considerable amount of flavor without any artificial additives. Another strategy is to eat your way to optimal hydration. Vegetables and fruits are primarily water and can account for nearly 20% of your daily intake if you target the recommendation of 6 servings of veggies and fruits daily. The good news is that all of our local farmers markets make doing so easy.
Outside of getting in enough water, it's also important to consider electrolyte intake. Electrolytes, like sodium and potassium, are essential for optimizing hydration and allowing the entrance of fluid into your cell. Sipping on coconut water, using colored sea salt "like Himalayan sea salt" or throwing a couple of tablespoons of chia seeds into a shake or smoothie, are fantastic ways to balance electrolytes with water intake.
As you enjoy the summer season, remember to stay on top of your hydration needs, both through H20 itself, and the incredible bounty of colorful fruits and veggies this season has to offer us.