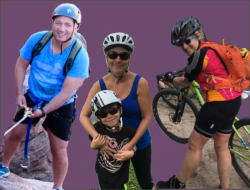 YARDEN: An Ultimate Success
Yarden is currently in his second session of the Ultimate program. His goal coming into Ultimate was to be in the best shape of his life by the time he turned 50 years old. Yarden recently turned 49, and he feels that with the help of the FITSPACE Ultimate Team he will successfully achieve that goal. Not only does he believe he is on the road to being in the best shape ever, he shares that his body does not hurt and actually feels good for the first time in a long time.
Yarden shares that "The Ultimate Team and FITSPACE staff are amazing and they have a very good understanding of where each person is individually and structure the program to increasingly and continuously challenge you." Even though Yarden experienced soreness at the beginning of the program, he never felt he was pushing himself to the point of injury. His advice to new members in the program is … "As with any program, you get out what you put in to the program. There are no magic pills—just a group of highly knowledgeable and talented team members who are there to give you as much as you want to take."
RENEE: An Ultimate Success
Renee is currently in her second session of the Ultimate Program. She works full time from home and found it was difficult to carve out time from her hectic schedule for exercise—until she discovered FITSPACE and the Ultimate program. She particularly likes the nurturing and supportive atmosphere at FITSPACE. "I enjoy every morning with the energetic trainers and participants in the group." Renee is very appreciative of the Ultimate trainers and registered dieticians and feels they truly want her to be her best. She also feels they have genuine interest in her personal fitness, nutrition goals, and keeping her body safe and injury-free.
Renee believes the program enabled her to drastically improve her fitness, eating habits, and overall well-being. Her improved fitness level has allowed her to enjoy many more activities, such as playing basketball with her son, taking long bike rides, as well as longer, easier jogs by the lake.
LAURIE: An Ultimate Alumni Success

Laurie is an Alumni member of the Ultimate program. She completed two Ultimate programs and felt it was "twice as fabulous" and only now really understands what a stupendous foundation was laid "little baby brick by little baby brick." Since completing the Ultimate program, Laurie has been a participant in the FITSPACE Pro program. She rounds out her exercise routine at FITSPACE with a Ropes/TRX class with DJ and a Pilates class with Adrienne.
Laurie is an avid road and mountain biker. She has "markers" on one of the mountain bike trails she rides often. A section that took her close to 14 minutes to complete a couple of years ago now takes only 11 min. and 25 seconds "to be exact!!!" Laurie feels stronger in every aspect of her life be it in her sports activities, at the office, and everywhere in between. She shares that "Ultimate is definitely my age-defying program!"
Read more on Laurie's successes with the Ultimate program here.
Thanks to these amazing individuals for sharing their stories and we look forward to your future successes!